LOCAL BANK CAMPAIGN EARNS $1,000 FOR BREWER AREA FOOD PANTRY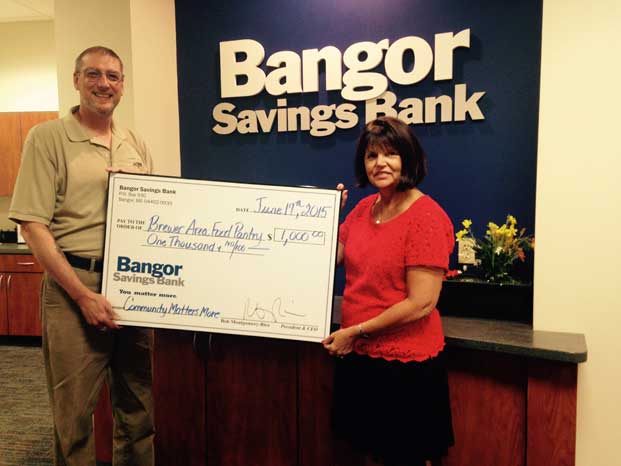 Rich Romero, OHI resource developer, accepts a check on behalf of OHI's Brewer Area Food Pantry from Catherine L. Maher, Bangor Savings Bank vice president, Brewer branch manager.
By Rich Romero
OHI Resource Developer
OHI, HERMON, Maine – The Brewer Area Food Pantry received $1,000 from Bangor Savings Bank recently from its foundation's 2015 Community Matters More Campaign.
Each year, through Community Matter More, the Bangor Savings Bank Foundation gives a total of $100,000 to 68 Maine nonprofit organizations by asking Maine citizens to cast votes for the organizations that matter most to them. Forty-eight nonprofits from all over Maine are chosen to appear on the ballot, and there is also a write-in option to cast a vote for a nonprofit that doesn't appear on the ballot. The top vote-getters in each of eight geographical areas each receive $5,000 grants, while the remaining 40 nonprofits and 20 write-in candidates with the most votes each receive $1,000.
"Currently, the Brewer Area Food Pantry supports more than 605 people including 179 children in the communities of Brewer and Eddington," said Brenda Leavitt, OHI Project Manager who also overseas the food pantry operation. "This money will assist OHI in continuing to operate the food pantry. Without donations of both food and money to the food pantry, we simply couldn't sustain operating it."
For a complete list of other regional and state recipients of the 2015 Community Matters More campaign, visit http://www.bangor.com/Community-Support/Community-Matters-More.aspx.