DEAD RIVER CO. DONATES $500, BREWER COMMUNITY GIVES OVER 700 LBS OF FOOD DURING TWO-DAY FUNDRAISER FOR BREWER AREA FOOD PANTRY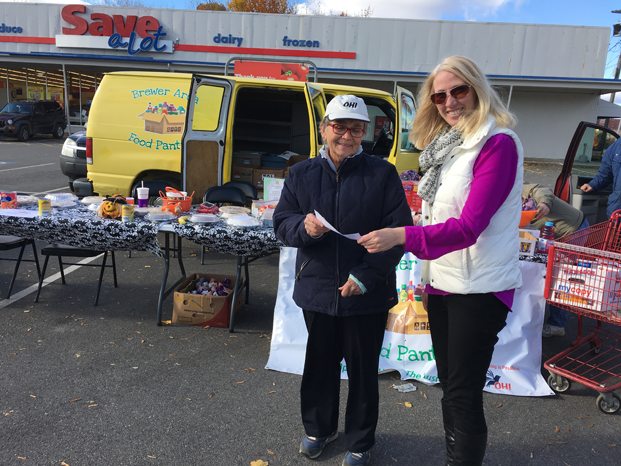 OHI President and Chief Executive Officer Bonnie-Jean Brooks (left) accepts a $500 donation from Dacia Mason, Dead River Company Brewer branch manager.
By Rich Romero
OHI Resource Developer
OHI, HERMON, Maine – Dead River Company surprised the Brewer Area Food Pantry with a $500 donation during a food drive Oct. 30-31.
At the end of the two days, Brewer residents donated more than 743 pounds and $666 for the food pantry during the fundraiser in the Save-A-Lot parking lot.
"We greatly appreciate the support of Save-A-Lot for allowing us to take up valuable space in their parking lot to hold the food drive, which we sorely needed to help stock shelves in the food pantry," said Brenda Leavitt, Project Manager and co-manager of the food pantry. "Dead River's donation not only was a big surprise, but all the money donated will be extremely helpful particularly with 117 Brewer families registered through the food pantry for holiday baskets in November."
The food pantry supports an average of about 120 Brewer and Eddington households each month totaling about 250 people, according to Debbie Washington, food pantry coordinator. It distributes more than 4,000 pounds of food each month.
To volunteer at or donate to the Brewer Area Food Pantry, contact Washington, Leavitt or Rich Romero at dwashing[email protected], [email protected] or [email protected].