Brewer Area Food Pantry
Operating hours and location
Located at 222 North Main Street, the newly renovated facility opens 10 a.m. to noon the first four Mondays and Wednesdays each month. The food pantry serves residents of Brewer and Eddington, Maine, who meet the U.S. Department of Agriculture Emergency Food Assistance Program income guidelines. People need to only bring proof of residency with them when they register at the food pantry. Accepted form of proof of residency includes a piece of mail correspondence with the beneficiary name and address printed on it or a copy of a rental agreement or lease; driver's license or state identification are not accepted.
Filling a community void
The previous community food cupboard closure left the people in the community with a void in meeting one of their most basic needs and increased stress of surrounding community food banks and soup kitchens. With an organizational commitment to social services, OHI felt compelled to partner with the former food cupboard organizers and the city to open another food pantry to try to meet the need. The Brewer Area Food Pantry currently serves more than 600 families, including more than 200 children.
Fostering partnerships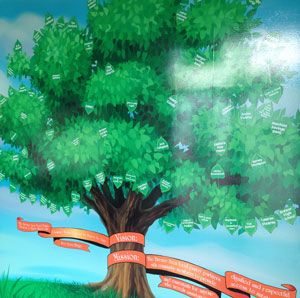 OHI partnered with the Brewer Economic Development Department, The Rock Church (Bangor), Camden National Bank (Brewer), the Brewer Community Service Council, Good Shepard Food Bank and Epstein Commercial Real Estate (Bangor) to open the food pantry.
More than 115 Greater Bangor and Brewer Region businesses and community members support the food pantry through one-time or multiple in-kind donations of equipment, goods and services; food drives; financial contributions; and volunteerism.
Volunteers
Volunteer support is essential to the successful operation of the food pantry. OHI and the Brewer Area Food Pantry are committed to the belief that involving volunteers in its operations is a necessity for carrying out its mission of providing food for those at risk of hunger in Brewer and Eddington, Maine.
People from diverse backgrounds come to help sort and inspect donations, stock shelves, pick up donated goods and equipment, or pack food for people in need. Corporations, school groups, community groups, Scouts and more; if you have a group that would like to volunteer, we've got an opportunity for you!
Use your time at the Brewer Area Food Pantry to fulfill community service requirements for court-ordered service, or school or SNAP benefit requirements.
Donations
Donations are critical to sustain operations and always appreciated. Small donations are accepted at either OHI business locations 8:30 a.m. to 3:30 p.m. Monday through Friday at 238 State Street, Twin City Plaza, Brewer, or 25 Freedom Parkway, Hermon. Donations are also accepted during food pantry operating hours. In addition, donations can be dropped off at the co-located thrift shop, Bonnie's Bargain Basement (around the back of the building off Betton Street). For large donations, please call the Brewer Area Food Pantry at 989-3200.
Contact us
For more information about the Brewer Area Food Pantry, contact Rich Romero, 605-1218, or Brenda Leavitt, 605-1208, or post a comment on OHI's Facebook page.