TRADE ASSOCIATION SELECTS OHI EMPLOYEE AS MAINE'S AWARD WINNER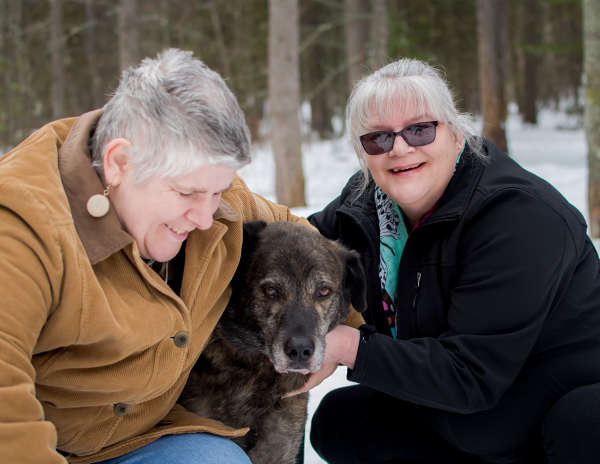 HERMON, ME – Danita "Dani" McKenney-Hallett of OHI received her American Network of Community Options and Resources (ANCOR) 2018 Maine Direct Support Professional (DSP) Recognition Award April 17 at a ceremony in New Orleans, La.
McKenney-Hallett is the fourth OHI DSP to receive the award in the past six years. In addition to McKenney-Hallett, winners from 46 states, Washington, D.C., Canada, the Republic of Moldova and the ANCOR 2017 DSP of the Year from New Mexico were presented their awards at a ceremony honoring DSPs at the national trade association's annual conference.
"It's an enormous honor for Dani and for our agency," said Bonnie-Jean Brooks, OHI president and chief executive officer. "Dani deserves this honor as do so many other DSPs at OHI. She and all other DSPs are unsung heroes. I know those Dani has supported and are supporting are so very happy for her being in their lives. She sets the example of what it means to be the best."
Since 2007, ANCOR has honored exceptional DSPs with the annual recognition award for exemplary work in furthering community inclusion and full participation for the many Americans living with intellectual, developmental and other disabilities, according to an ANCOR news release. ANCOR's DSP Recognition Awards are given to those who personify the values of ANCOR's National Advocacy Campaign. Nominees are judged on their success in helping people with disabilities build social networks and engage in substantive community participation and for advocating for the people they serve.
OHI honors McKenney-Hallett with a ceremony noon at 3 p.m. April 26 in its administrative and training office at Twin City Plaza, 238 State Street, Brewer. (News media interested in attending the ceremony should contact Rich Romero, resource developer, at 605-1218 or [email protected].)
(NOTE: OHI is a Maine-based nonprofit organization providing supports and services to people with intellectual disabilities, autism and mental illness for the past 39 years in six Maine counties. OHI provides 24-hour residential services and various community services for about 600 people with these disabilities to live productively in their communities. OHI also provides permanent housing for adults with disabilities, and professional development training for people, including family members, caregivers and support workers. In addition, OHI owns and operates the Brewer Area Food Pantry serving the communities of Brewer and Eddington, and Bonnie's Bargain Basement, a thrift shop "turning deals into meals." ANCOR is a national trade association representing more than 1,200 private providers of community living and employment supports and services to more than 800,000 people with disabilities with a workforce that's more than half a million strong. ANCOR advocates for the crucial role private providers play in enhancing and supporting the lives of people with disabilities and their families. www.ancor.org.)