Volunteer
Enroll and Pay for Training
through the OHI Website
Enroll Now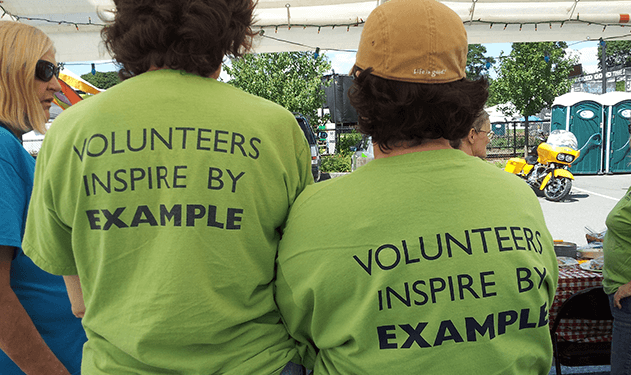 Volunteer Application
To apply to become a volunteer with OHI, please download, print, and fill out our application below:
Return application to:
203 Maine Avenue
Bangor ME 04401
For more information, contact human resources at 207.858.5804.
While many members of the Bangor region and its area communities may already have full-time employment, that doesn't mean they can't still be part of the OHI family. Our diverse presence throughout central Maine makes it fun and easy to volunteer in a variety of settings. Whether it's fundraising, athletic or recreational events, there are activities for everyone to enjoy. We certainly welcome anyone who wants to be a part of the excitement.
Special Olympics
OHI is strongly involved with Maine Special Olympics and participates in a variety of games throughout the year. Many of our support staff volunteer or serve as coaches to the teams. Some even play on the teams themselves through a Unified Partner Participation program.
Special Olympics give volunteers the opportunity to assist people in community-related events while having fun with athletic competitions. Volunteering also means the chance to travel with the team during away games. No special skills are needed to volunteer, although a background check, as well as online training, needs to be completed.
Camp Capella
Our summers are punctuated by our yearly trip to Camp Capella. Located on Phillips Lake in Holden, Camp Capella's mission is to provide recreational and educational opportunities for people with disabilities. The week is filled with games, food, and water sports.
It is an excellent chance for staff and volunteers alike to spend social time with the people we support. Volunteers can help with everything from food preparation to planning. Some even lead games and activities.
Brewer Area Food Pantry
OHI opened the Brewer Area Food Pantry on November 25, 2013, at 222 North Main Street. The food pantry is open to residents of Brewer and Eddington. It provides a volunteer opportunity not only for community members but for the people we support as well.
Financial and food donations are always welcome. However, volunteer time ensures that the food pantry stays adequately staffed. Working at the food pantry not only gives the people we support the chance to give back to the community, but to also establish new friendships with other volunteers.
Contact Us
These are just a few examples of how you can get involved with OHI outside of employment. We welcome everyone regardless of skillsets or ability and ask only that you bring with you a positive attitude and the desire to help. If you would like more information on how you can volunteer, please contact the human resources manager at 207-605-1249.