Brewer Area Food Pantry Open House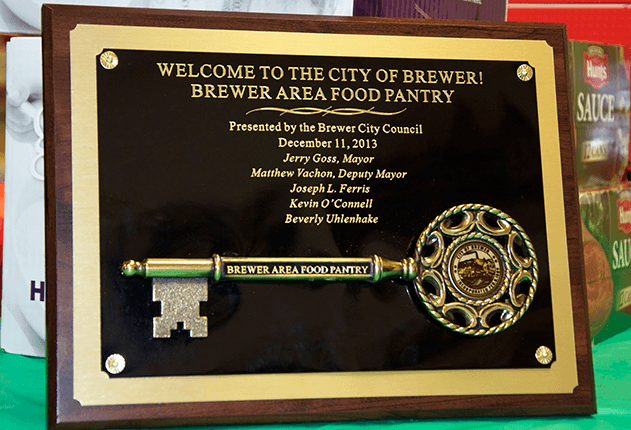 OHI HOSTS OPEN HOUSE DEC. 11 FOR BREWER AREA FOOD PANTRY
By Rich Romero
OHI Resource Developer
HERMON, Maine – OHI hosts an open house and ribbon cutting ceremony for the Brewer Area Food Pantry 1-4 p.m. Dec. 11 at 222 North Main Street, Brewer.
Operated by OHI and staffed by community volunteers, the facility supports residents of Brewer and Eddington, and marks the return of a food pantry to those communities after 15 months without. The previous Brewer Christian Food Cupboard, operated by a local church, closed in late summer 2012.
A Brewer city official presents OHI with a key to the city during the 2 p.m. ribbon cutting ceremony. Afterward, two area banks and a local wellness center plan to make financial donations to the food pantry.
"Please join us in helping to feed those in need by bringing non-perishable food items with you to the open house," said Brenda Leavitt, OHI Project Manager. "We will have light refreshments and people may tour the facility, check out the donor 'tree' and learn more about how to support this community resource by volunteering or with donations of food or money."
The facility opens 10 a.m. to noon Wednesday and Friday the first four weeks of each month and 6-8 p.m. the fourth Thursday. It's not open during a fifth week of any month. People eligible to use the food pantry need to live in Brewer or Eddington and meet the U.S. Department of Agriculture Emergency Food Assistance Program income guidelines. People planning to use the food pantry for the first time should be prepared to complete an application to determine eligibility.
"We're grateful for the outpouring of support already from the community, and not just that of Brewer," Leavitt said. "Donations, volunteers and financial support have come from throughout the Greater Bangor Region."
The Brewer Area Food Pantry is staffed by volunteers and operated by OHI, a Hermon-based public nonprofit agency that supports adults with intellectual disabilities and mental illness and has offices in the Twin City Plaza in Brewer.
"While there's a growing list of volunteers, we could always use more," Leavitt said. "We really need volunteer support to operate as well as donations."
Community members or businesses interested in providing financial support, donations of food or equipment, or volunteers to staff the Brewer Area Food Pantry should call Leavitt at 605-1208, or e-mail her at [email protected].