Bangor Area Employee Honored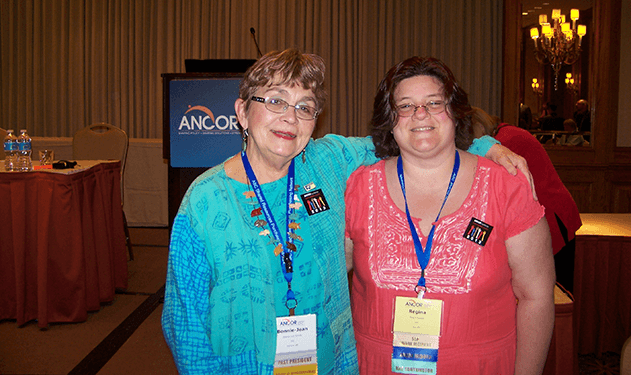 NATIONAL TRADE ASSOCIATION HONORS BANGOR-AREA EMPLOYEE
By Rich Romero

Resource Developer
OHI, Hermon – A Bangor-area social services employee was recently named the American Network of Community Options and Resources 2013 Direct Support Professional of the Year for Maine.
This is the same national trade organization that awarded Sen. Susan Collins (R-ME) its National Advocacy Campaign's 2013 Disability Community Champion April 24.
Regina "Gina" Russell, a DSP with OHI and resident of Lee, is the second consecutive OHI employee to receive this national award. Jessica Emerson, now a community case manager with OHI, received the award for 2012. Russell received her award April 30 along with the other state winners during the ANCOR annual conference at a ceremony in the nation's Capitol.
OHI is a Hermon-based nonprofit agency providing supports and services to adults with intellectual disabilities and mental illness for the past 34 years in five Maine counties. It provides 24-hour residential services and various community-based services for adults with these disabilities to live productively in their communities. It also provides transitional and permanent housing for adults with disabilities, and professional development training for people, including family members, caregivers and support workers.
"OHI is proud of Gina's recognition," said Bonnie-Jean Brooks, OHI president and chief executive officer. "This honor is a reflection of Gina's commitment to supporting people with disabilities and the quality of services provided by OHI."
Russell, 40, is a 1996 graduate of the University of Maine with a bachelor's degree in elementary education. Her parents, Reg and Lianne Russell, live in Springfield. She graduated from Lee Academy in 1991.
Often referred to as caregivers, personal assistants and direct care or homecare aides, DSPs provide a mosaic of daily support services for the many Americans with disabilities. These DSPs are integral in helping people with disabilities participate in their communities and lead full, independent lives, according to Brooks.
The ANCOR Direct Support Professional Recognition Award is given to those who personify the values of ANCOR's National Advocacy Campaign, which works to ensure a well-trained and sustainable direct support workforce, said Renee Pietrangelo, ANCOR CEO. Nominees are judged on the work they've done to build social networks, substantive community participation and advocating for the people they support.
"Most Americans aren't aware of the critical work DSPs do every day and the essential role they plan in the social and economic life of communities across the country," said Dave Toeniskoetter, ANCOR president. "We want to make sure DSPs like Gina are recognized for the difficult but inspiring work they do every day."
A local ceremony recognizing Gina's achievements in the field will take place in May.
"DSPs are on the front lines supporting people with disabilities and ensuring those individuals are granted full inclusion in their communities," said Pietrangelo. "It's absolutely essential that individuals, like Gina, are given the recognition and respect they deserve."
ANCOR is a national trade association representing more than 800 private providers of community living and employment supports and services to more than 400,000 people with disabilities. As a nonprofit organization, ANCOR addresses the needs and interests of private providers before Congress and federal agencies, advocating for the role private providers play in enhancing and supporting the lives of people with disabilities and their families.
Through its National Advocacy Campaign, ANCOR seeks to obtain the resources to recruit, train and retain a sustainable direct support workforce. ANCOR provides organization, professional, leadership development and networking opportunities and services and is continually working toward partnerships and collaborations that advance its vision, mission and goals. Its prime goal is to be the indispensable leader, resource and advocate for a diverse private disability services network that ensures full citizenship and engaged community participation for people of all ages with disabilities. For more information about ANCOR, visit www.ancor.org.