Foundation Awards Brewer Food Pantry $5,000 Grant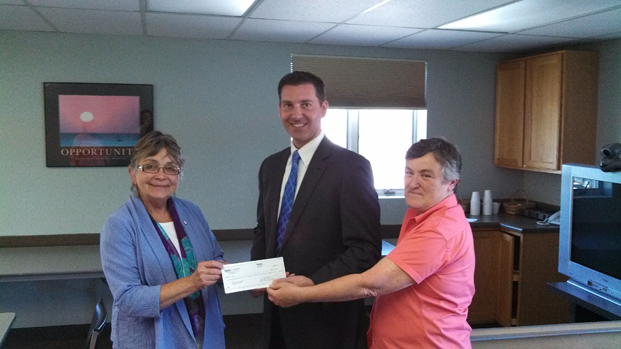 From left to right, Bonnie-Jean Brooks, OHI president and chief executive officer; Ron Roope, Bangor Savings Bank senior vice president, senior commercial relationship manager; and Brenda Leavitt, OHI project manager and Brewer Area Food Pantry co-manager.
FOUNDATION AWARDS BREWER FOOD PANTRY $5,000 GRANT
By Rich Romero
OHI Resource Developer
HERMON, Maine – The Bangor Savings Bank Foundation recently awarded a $5,000 grant to the Brewer Area Food Pantry, operated by OHI.
"This grant award from our foundation to OHI and the Brewer Area Food Pantry signifies our commitment to improving the quality of life in the communities we serve," said Stacey Haskell, Bangor Savings Bank vice president and community relations manager. "Bangor Savings Bank understands hunger is a significant issue for many Maine citizens and having local resources such as the Brewer Area Food Pantry is critical in helping distribute food to those in need."
All money donated to the Brewer Area Food Pantry as well as grant funds awarded (unless otherwise specified by the funder) are used to purchase food, according to Brenda Leavitt, OHI project manager and co-manager of the food pantry. In particular, this grant helps fund a summer initiative for Brewer school-aged children.
Families with school-aged children who qualified for free or reduced meals during the past school year can come to the food pantry twice a month in July and August to receive up to four days worth of breakfast, lunch and snack food, Leavitt explained. Food for the children's meals may be picked up between 9 a.m. and 10 a.m. July 2, 9, 16 and 23, and Aug. 6, 13, 20 and 27. Families with eligible school-aged children may receive food twice a month in July and August.
"It's only because of support such as that of the Bangor Savings Bank Foundation and many other community members, businesses and partners that we're able to help the fight against hunger in the communities where we live and work," said Kathy Smith, OHI assistant chief executive officer. "Every donation is a gift and we're grateful for Bangor Savings Bank Foundation's generous gift."
For more information on OHI and the Brewer Area Food Pantry, visit www.ohimaine.org.