TRADE ASSOCIATION SELECTS OHI EMPLOYEE AS MAINE'S AWARD WINNER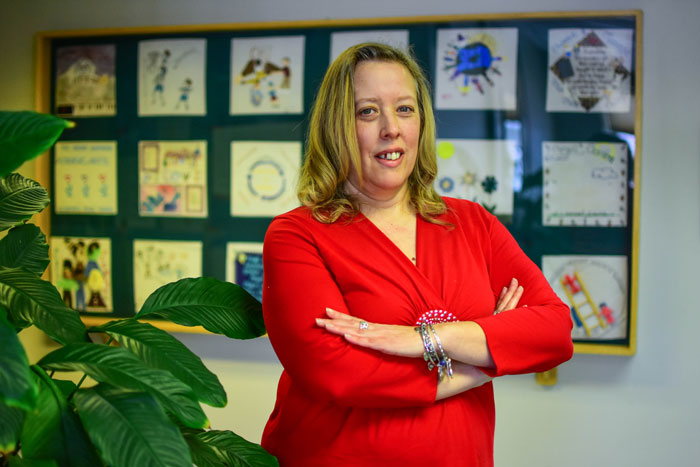 HERMON, ME – Wende Tyler of OHI received her American Network of Community Options and Resources (ANCOR) 2017 Maine Direct Support Professional (DSP) Recognition Award on May 3 at a ceremony in San Antonio, Texas.
Tyler is the third OHI DSP to receive the award in the past five years. In addition to Tyler, winners from 43 states, Washington, D.C., Ontario, Canada, the Republic of Moldova and the ANCOR 2017 DSP of the Year from Kansas were presented their awards at a ceremony honoring DSPs from across the nation at the national trade association's annual conference.
"It's an enormous honor for Wende and for our agency," said Bonnie-Jean Brooks, OHI president and chief executive officer. "Wende deserves this honor as do so many other DSPs at OHI. She and all other DSPs are unsung heroes. I know those Wende has supported and are supporting are so very happy for her being in their lives. She sets the example of what it means to be the best."
Since 2007, ANCOR has honored exceptional DSPs with the annual recognition award for exemplary work in furthering community inclusion and full participation for the many Americans living with intellectual, developmental and other disabilities, according to an ANCOR news release. ANCOR's DSP Recognition Awards are given to those who personify the values of ANCOR's
National Advocacy Campaign. Nominees are judged on their success in helping people with disabilities build social networks and engage in substantive community participation and for advocating for the people they serve.
OHI honors Tyler with a ceremony noon to 2 p.m. June 1 in its administrative and training office at Twin City Plaza, 238 State Street, Brewer.
Resource Developer
(207) 605-1218